The Liquid Democracy Journal is dedicated to the idea of Liquid Democracy, which is a democratic principle that uses transitive delegations to unite the best of direct and representative democracy.
But this journal is not just limited to Liquid Democracy; it also covers those topics coming up when implementing it: electronic participation, collective moderation, and voting systems.
Welcome to the official website of the Liquid Democracy Journal on electronic participation, collective moderation, and voting systems. On this page you find information about the latest or upcoming issue as well as an archive of all previous issues. The journal is published both as a printed and as an electronic version.
The print version (EUR 12 per issue) is available at book stores.
The electronic version includes the print content as PDF file plus a barrier reduced text version and is published some time after the print version. The download of the electronic version is free of charge.
| | |
| --- | --- |
| ISSN-L: | 2198-9532 |
| ISSN print version: | 2198-9532 |
| ISSN electronic version: | 2199-1758 |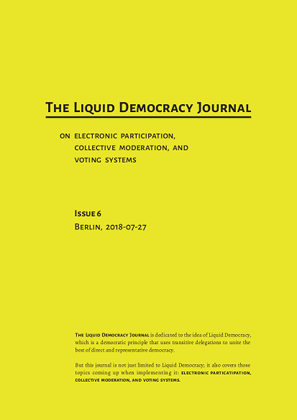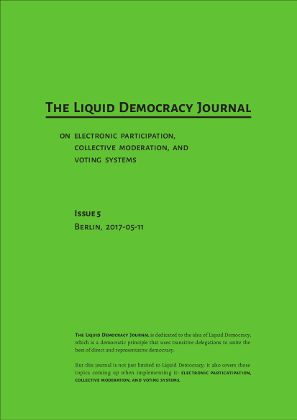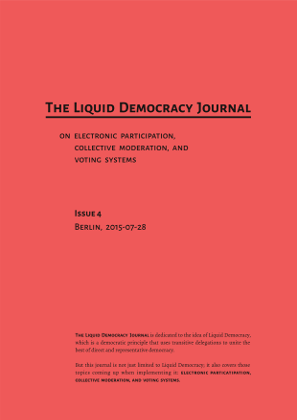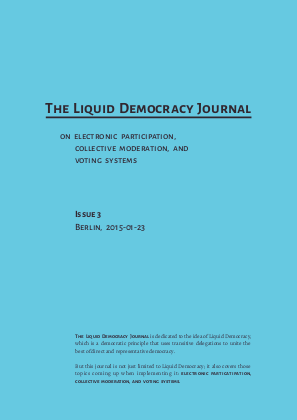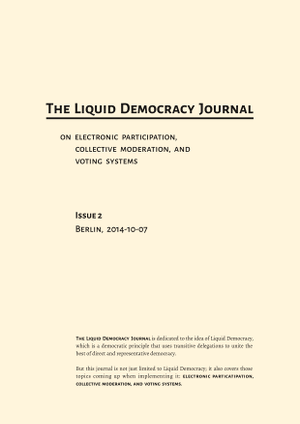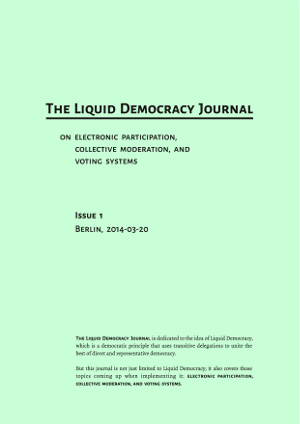 Back to home
Privacy
The following German text is our legally binding privacy statement.
Datenschutzerklärung
1. Information über die Erhebung personenbezogener Daten
a) Im Folgenden informieren wir Sie über die Erhebung personenbezogener Daten bei der Nutzung unserer Webseite. Personenbezogene Daten sind alle Daten, die auf Sie persönlich beziehbar sind, wie z. B. Name, Adresse, E-Mail-Adresse, IP-Adresse.
b) Verantwortlicher gemäß Artikel 4 Abs. 7 EU-Datenschutz-Grundverordnung (DSGVO) ist

Interaktive Demokratie e. V.
Johannisstr. 12
10117 Berlin
+49 (30) 57700482
info@interaktive-demokratie.org
(siehe auch unser Impressum).
c) Bei Ihrer Kontaktaufnahme mit uns per E-Mail werden die von Ihnen mitgeteilten Daten von uns gespeichert, um Ihre Fragen zu beantworten. Die in diesem Zusammenhang anfallenden Daten löschen wir, nachdem die Speicherung nicht mehr erforderlich ist, oder schränken die Verarbeitung ein, falls gesetzliche Aufbewahrungspflichten bestehen.
2. Ihre Rechte
a) Sie haben uns gegenüber folgende Rechte hinsichtlich der Sie betreffenden personenbezogenen Daten:
Recht auf Auskunft
Recht auf Berichtigung oder Löschung
Recht auf Einschränkung der Verarbeitung
Recht auf Widerspruch gegen die Verarbeitung
Recht auf Datenübertragbarkeit
b) Sie haben zudem das Recht, sich bei einer Datenschutz-Aufsichtsbehörde über die Verarbeitung Ihrer personenbezogenen Daten durch uns zu beschweren. Eine Liste der Datenschutzbeauftragten mit Kontaktdaten sind unter folgendem Link erhältlich:
www.bfdi.bund.de/DE/Infothek/Anschriften_Links/anschriften_links-node.html
3. Erhebung personenbezogener Daten bei Besuch unserer Webseite
Wenn Sie unsere Webseite nur zu Informationszwecken nutzen, also wenn Sie uns nicht anderweitig Informationen übermitteln, erheben wir nur die personenbezogenen Daten, die Ihr Browser an unseren Server übermittelt. Wenn Sie unsere Website betrachten möchten, erheben wir die folgenden Daten, die für uns technisch erforderlich sind, um Ihnen unsere Website anzuzeigen und die Stabilität und Sicherheit zu gewährleisten (Rechtsgrundlage ist Artikel 6 Abs. 1 S. 1 lit. f DSGVO):

IP-Adresse
Datum und Uhrzeit der Anfrage
Zeitzonendifferenz zur Coordinated Universal Time (UTC)
Inhalt der Anforderung (konkrete Seite) mit gesendeten Dateien
Zugriffsstatus/HTTP-Statuscode
jeweils übertragene Datenmenge
Webseite, von der die Anforderung kommt
Browser
Betriebssystem und dessen Oberfläche
Sprache und Version der Browsersoftware
Back to home
Imprint
The Liquid Democracy Journal
on electronic participation, collective moderation and voting systems
Interaktive Demokratie e. V.
Johannisstraße 12
10117 Berlin
Germany
http://www.interaktive-demokratie.org/
All rights reserved.
Published by: Interaktive Demokratie e. V., Berlin, Germany
Edited by: Jan Behrens, Axel Kistner, Andreas Nitsche, Björn Swierczek
Subscription and archive:
http://www.liquid-democracy-journal.org/
ISSN-L: 2198-9532
ISSN print version: 2198–9532
ISSN electronic version: 2199-1758