The Liquid Democracy Journal is dedicated to the idea of Liquid Democracy, which is a democratic principle that uses transitive delegations to unite the best of direct and representative democracy.
But this journal is not just limited to Liquid Democracy; it also covers those topics coming up when implementing it: electronic participation, collective moderation, and voting systems.
Welcome to the official website of the Liquid Democracy Journal on electronic participation, collective moderation, and voting systems. On this page you find information about the latest or upcoming issue as well as an archive of all previous issues. Beginning with Issue 7, the journal is published as an electronic version only.
| | |
| --- | --- |
| ISSN-L: | 2198-9532 |
| ISSN electronic version: | 2199-1758 |
| ISSN print version (until Issue 6): | 2198-9532 |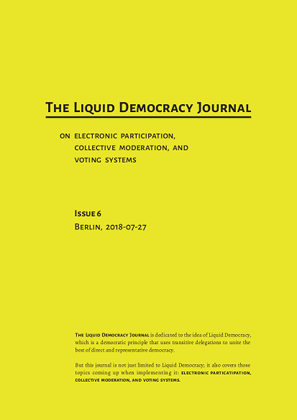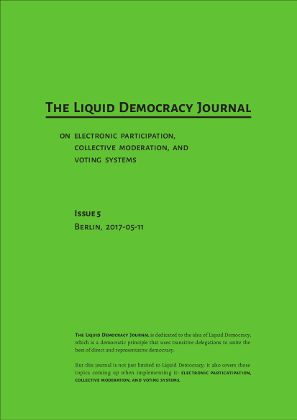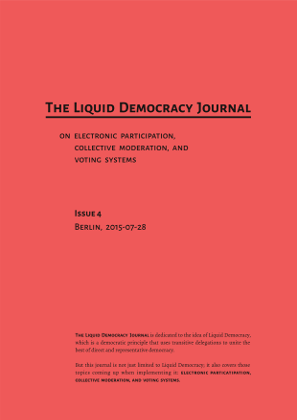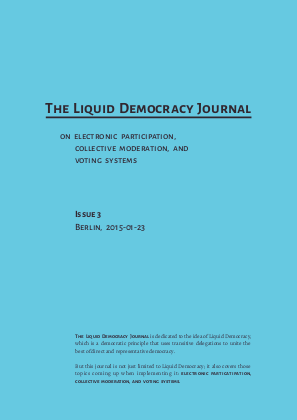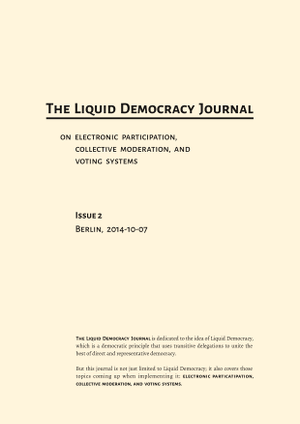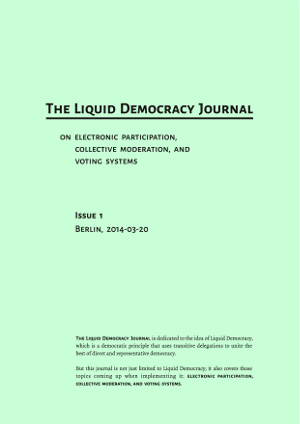 Back to home
Privacy
The following German text is our legally binding privacy statement.
Datenschutzerklärung
gemäß Artikel 12 ff. Datenschutzgrundverordnung (DSGVO)
Diese Datenschutzerklärung gilt für die Nutzung unserer Webseite, die Sie durch Eingabe der Internet-Domain "liquid-democracy-journal.org" in einen Browser abrufen können. Bei der Nutzung der Webseite werden personenbezogene Daten von uns (siehe unter "Verantwortlicher") verarbeitet. Personenbezogene Daten sind gemäß Artíkel 4 Nr. 1 DSGVO alle Informationen, die sich auf eine identifizierte oder identifizierbare natürliche Person beziehen. In dieser Datenschutzerklärung informieren wir Sie über Umfang, Zweck und Rechtsgrundlage der Verarbeitung personenbezogener Daten bei der Nutzung unserer Webseite sowie über die Dauer der Speicherung und welche Rechte Ihnen diesbezüglich zustehen.
Verantwortlicher
Name und Kontaktdaten des für die Verarbeitung Verantwortlichen:
Interaktive Demokratie e. V.
Johannisstr. 12
10117 Berlin
Deutschland
Vorstand: Jan Behrens, Axel Kistner, Andreas Nitsche, Björn Swierczek (einzelvertretungsbefugt)
E-Mail: info@interaktive-demokratie.org
Verarbeitung personenbezogener Daten
Wenn Sie unsere Webseite nutzen, verarbeiten wir nur die personenbezogenen Daten, die Ihr Browser an unseren Server übermittelt. Die Datenübermittlung geschieht automatisiert, sobald Sie die Webseite in Ihrem Browser aufrufen. Es werden die folgenden personenbezogenen Daten verarbeitet und in Logfiles auf unserem Server gespeichert:
IP-Adresse
Datum und Uhrzeit der Anfrage
Zeitzonendifferenz zur koordinierten Weltzeit (Coordinated Universal Time, kurz "UTC")
Inhalt der Anforderung (konkrete Seite) mit gesendeten Dateien
Zugriffsstatus/HTTP-Statuscode
jeweils übertragene Datenmenge
Webseite, von der die Anforderung kommt
Browser
Sprache und Version des Browsers
Betriebssystem und dessen Oberfläche
Zweck der Verarbeitung
Betrieb einer Webseite zur
Außendarstellung des Vereins
Realisierung von Vereinsangeboten und -zielen
Bereitstellung von Dateien zum Download mittels Download-Link
Kontaktaufnahme über E-Mail-Link
Sicherung des Server- bzw. Systembetriebs
Weiterverarbeitung für einen anderen Zweck
Eine Weiterverarbeitung der Daten der betroffenen Person für andere als den in dieser Datenschutzerklärung genannten Zwecke findet nicht statt. Beabsichtigt der Verantwortliche eine Weiterverarbeitung der Daten für einen anderen Zweck wird er die betroffene Person darüber informieren oder, sofern erforderlich, die Einwilligung für diese Verarbeitung einholen.
Rechtsgrundlage der Verarbeitung
Die Rechtsgrundlage für die Verarbeitung ist unser berechtigtes Interesse gemäß Artikel 6 Abs. 1 S. 1 lit. f DSGVO.
Dauer der Speicherung
Die Dauer der Speicherung der personenbezogenen Daten in Logfiles beträgt sieben Tage. Sie werden danach automatisch gelöscht. Im Übrigen werden die Daten gelöscht, sobald sie für die Erreichung des Zweckes ihrer Erhebung nicht mehr erforderlich sind.
Kategorien betroffener Personen
Besucher bzw. Nutzer unserer Webseite
Kategorien von Empfängern
Kategorien von Empfängern gegenüber denen die personenbezogenen Daten offengelegt worden sind oder noch offengelegt werden:
Hosting-Provider
Dienstleister für die Auftragsverarbeitung
Interne Stellen zur Bearbeitung von Anfragen
Übermittlung an Empfänger in Drittländern oder internationale Organisationen
Eine Weitergabe der personenbezogenen Daten an Empfänger in Drittländern oder an internationale Organisationen findet nicht statt.
Automatisierte Entscheidungsfindung
Eine automatisierten Entscheidungsfindung gemäß Art. 22 DSGVO findet nicht statt.
Rechte der betroffenen Personen
Jede betroffene Person hat
das Recht auf Auskunft (Art. 15 DSGVO),
das Recht auf Berichtigung (Art. 16 DSGVO),
das Recht auf Löschung (Art. 17 DSGVO),
das Recht auf Einschränkung der Verarbeitung (Art. 18 DSGVO),
das Recht auf Datenübertragbarkeit (Art. 20 DSGVO)
das Recht auf Widerspruch (Art. 21 DSGVO) sowie
das Recht auf Beschwerde bei einer Aufsichtsbehörde (Art. 77 DSGVO).
Zur Wahrnehmung der Rechts auf Auskunft, Berichtigung, Löschung, Einschränkung der Verarbeitung, Datenübertragbarkeit und Widerspruch genügt eine E-Mail an den Verantwortlichen. Soweit notwendig, muss der Verantwortliche die Identität der betroffenen Person verifizieren, bevor er Anträge auf Wahrnehmung von Rechten bearbeiten kann. Zur Wahrnehmung des Rechts auf Beschwerde muss die betroffene Person die jeweilige Aufsichtsbehörde direkt kontaktieren.
Back to home
Imprint
The Liquid Democracy Journal
on electronic participation, collective moderation and voting systems
Interaktive Demokratie e. V.
Johannisstraße 12
10117 Berlin
Germany
http://www.interaktive-demokratie.org/
All rights reserved.
Published by: Interaktive Demokratie e. V., Berlin, Germany
Edited by: Jan Behrens, Axel Kistner, Andreas Nitsche, Björn Swierczek
Subscription and archive:
http://www.liquid-democracy-journal.org/
ISSN-L: 2198-9532
ISSN print version: 2198–9532
ISSN electronic version: 2199-1758